Installation
Download and Installation
Like all other coolOrange plug-ins you can download it from the Autodesk Exchange Store. The installation is pretty straight forward. Just run the msi file and follow the instructions.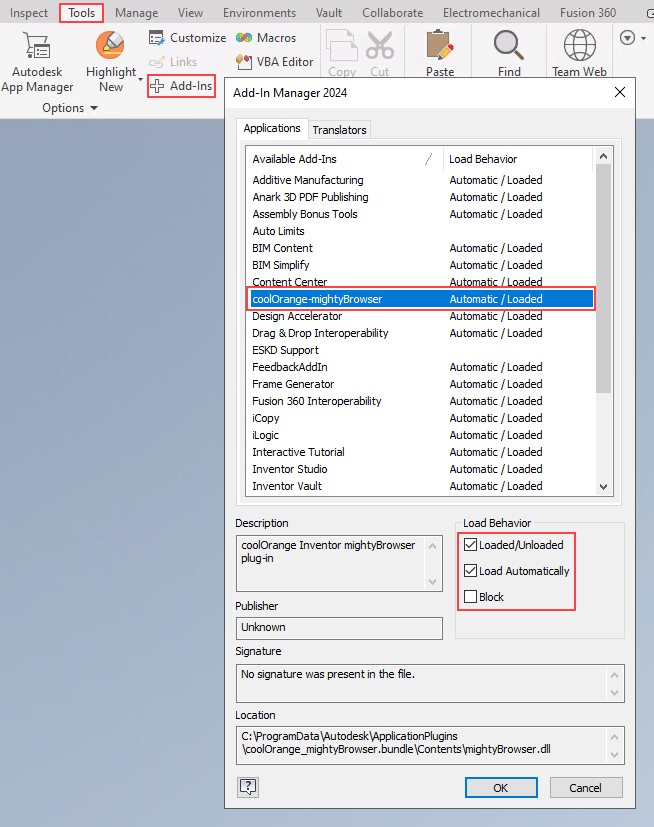 If the coolOrange ribbon does not appear it might be you need to unblock the App, in the Inventor the Add-In manager.
Open the Add-In manager

Select the coolOrange-mightyBrowser

Unblock the app.

Activate the checkboxes "Loaded/Unloaded" and "Load Automatically".
Uninstall
You can unload the plugin without uninstalling it by unchecking the "Loaded/Unloaded" check box associated with the plugin in the Inventor Add-In Manager. You may have to restart Inventor to completely unload the application.
To remove the plugin completely, Right Mouse Button click and uninstall the application using the Exchange App Manager tool, located on the Ribbons Tools tab > Options Panel.
To uninstall this plug-in, exit the Autodesk product if you are currently running it, simply rerun the installer, and select the "Uninstall" button. OR, you can uninstall it from 'Control Panel\Programs\Programs and Features' (Windows 7/10), just as you would uninstall any other application from your system.