License v5
Activate
Once you have received a serial number from coolOrange you can click the button Activate. In the following dialog you have three different options to activate your product: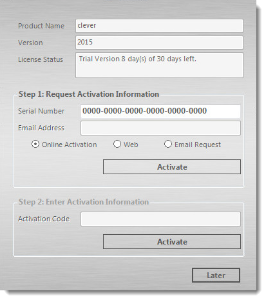 Online Activation
This is the preferred method but might not work if you use a proxy server to access the internet.
Web
This opens the activation website. If you fill the form you'll get an activation code. The following domain has been shutdown "http://activation.coolorange.com", instead you can use following url to activate your product: new activation
Email Request
With "Email Request" an email gets send to register@coolOrange.net and you get your activation code via email.
Before you can click the Activate button you need to enter your email address. This can be slow sometimes so the first two options should be prefered if possible.